Homeowners always have great problems keeping their food and vegetables fresh. But Luxear is not a problem because it provides a fruit-vegetable storage container that can be used to store your food and vegetables to keep them safe and fresh.
What's Included in the Box?
This Storage Saver Containers package includes 5 Storage Containers, 5 Lids, and 5 Colanders. In short, you get a complete set of storage containers that keep your food safe and secure.
before buying this Storage Saver Container, let's have a look at their pros and cons.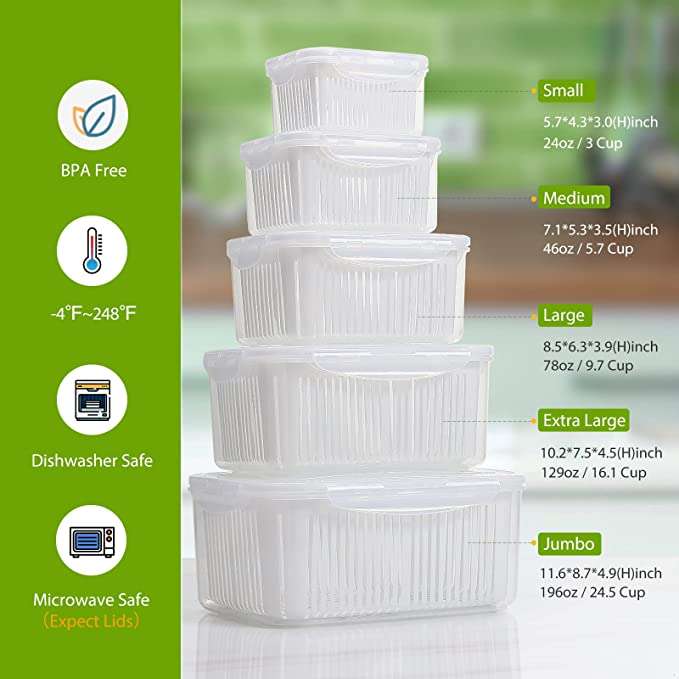 Pros of Storage Saver Containers:
Large Capacity:
This Luxear Storage Case is made with premium quality plastic that perfectly stores fruits, vegetables, meat, fish, lettuce, celery, asparagus, avocado, berries, strawberries, blueberries, salad, bacon and more. These containers will keep whatever you store fresh, dust-proof and odor-resistant. In short, the quality of the food will remain the best.
High Temperature Resistance:
This case from Luxear is extremely durable to stay as is at all temperatures. These food and vegetable storage containers can be used at a minimum temperature of -20 degrees to 120 degrees Celsius. In short, it is an eco-friendly, safe and durable set of containers.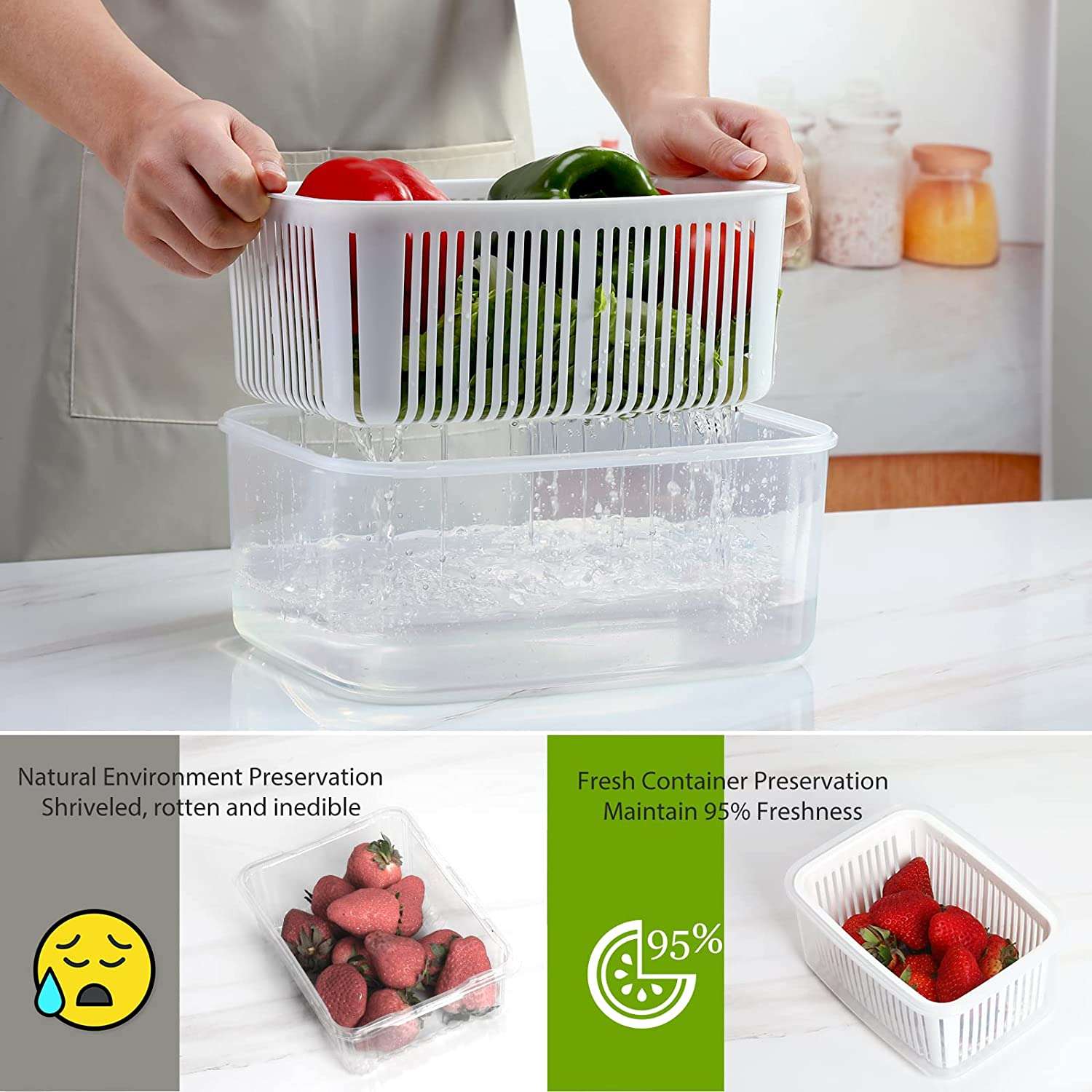 Made with Food Grade Materials:
Yes, plastic is not the material of choice for food storage. However, the Luxear Fresh Keeping Set is made with BPA Free Plastic, a food grade material. Plus, it's the premium quality of plastic that makes this case stain, scratch, and crack resistant. It is perfectly made for use in the dishwasher, microwave and freezer.
Attractive Design:
Design matters when you're paying for anything. This Luxear container set has a premium design that looks decent in your pantry or cabinet. Its fully transparent design gives you a clear view of the stored food or vegetables. Its unique and robust design makes it the perfect choice for picnics, office supplies, travel, gym and other outdoor events.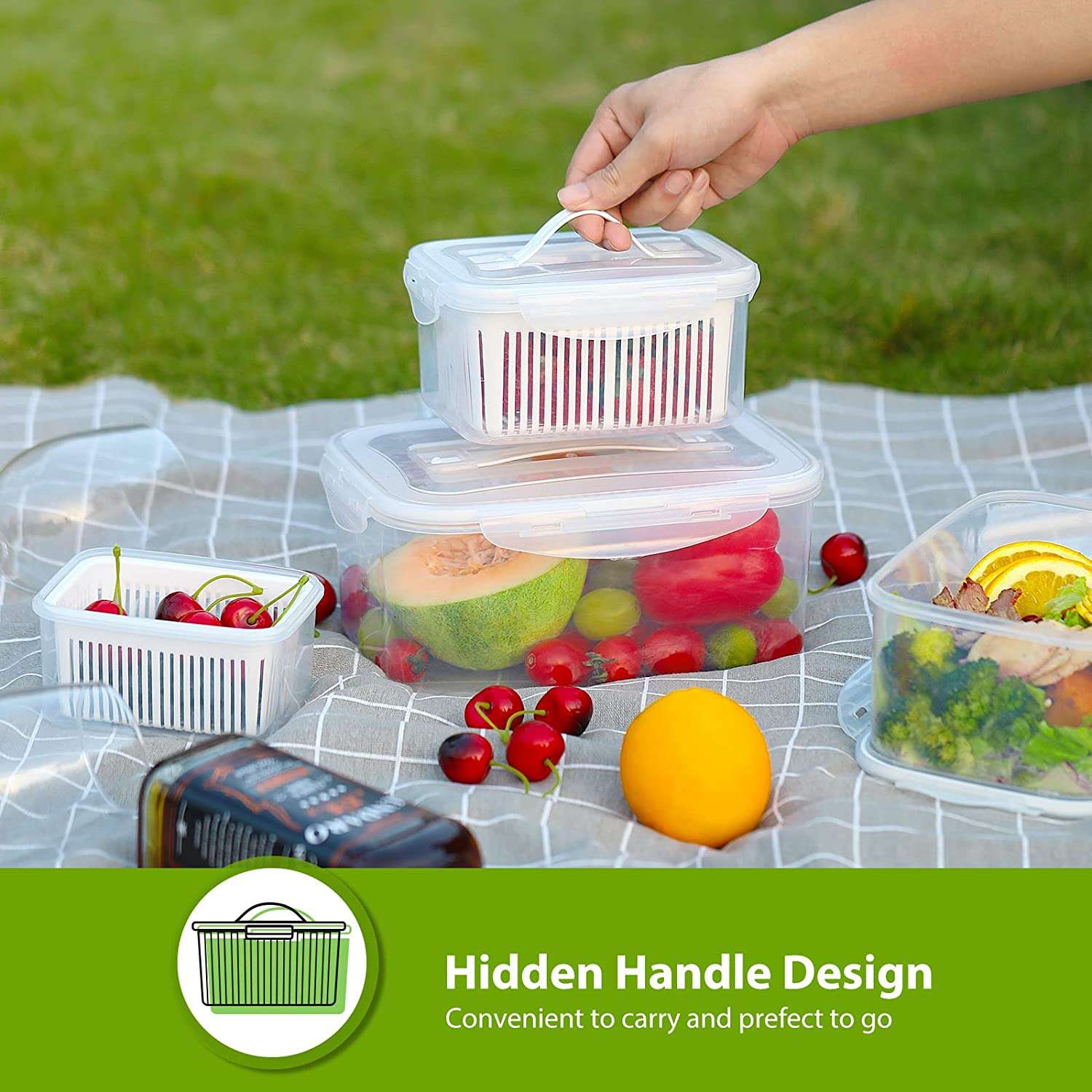 Cons of Storage Saver Containers:
No Air Vent:
Storing hot food creates a vacuum, making it difficult to open the tin. It needed air vents to release heat and facilitate lead removal.
Build quality:
Some customers also complained about the build quality. Some of them received bad products or didn't last long. This brings bad impact on brand reputation. For such buyers, Luxear has a good option.
A complementary factor that excites us is its strong commitment to quality. The company provides good service for their products. You can ask for cash if the container does not match the company's claims. The best part is that the company has a no-questions-asked return policy which is the best if you want to try this collection of containers.
Get Fantastic Deals Today!
If you're ready to put your cash on this fruit & vegetable storage case, now's the time to grab some fantastic discounts. You can use a coupon code DFR3EZK2 (Purchased from Rywell Direct) and TC69XZMN (Purchased from LUXEAR Inc). This offer only lasts until December 31, 2028. So, don't wait and get it today.