Martinis, mojitos, merlots and more. Whether fancy cocktails or delicious wines are your favorite, this drink app will have you blending, mixing and uncorking in no time.
Untapd

Untappd is a social discovery and check-in network for anyone who enjoys beer. This gives you the ability to easily find nearby craft beers and bars, see what beers are trending, as well as see where your friends are drinking.
View personalized recommendations and use Untappd to find the closest location to get the beer you want. Once you've got a delicious beer in your hands, use Untappd to track, rate, take photos and share them with all your friends. As you explore more beer styles and locations, you'll find a variety of badges.
For iPhone only, this app is a free download.
Get Untappd – Discover Beer in the App Store
Drinks and Cocktails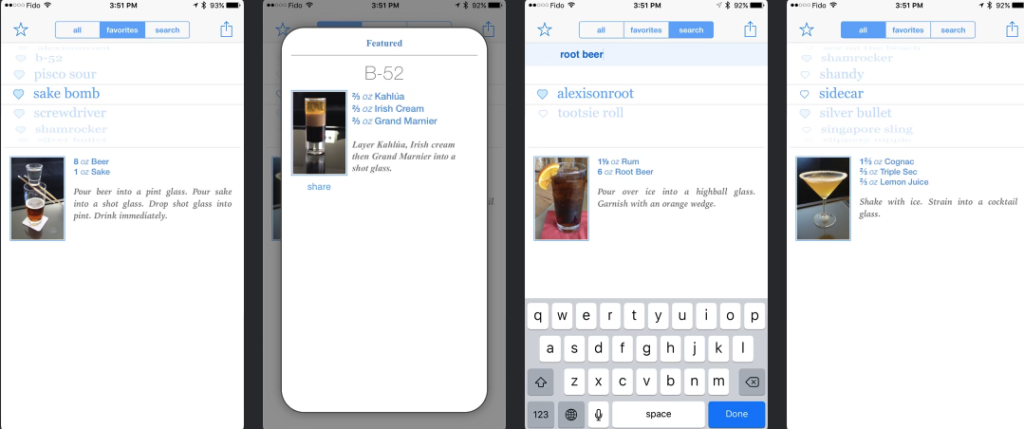 Let's face it. These large number of cocktail apps can be overwhelming with their huge database of thousands of drinks. Some of the instructions on the recipe don't even make sense. Drinks and Cocktails pride themselves on simplicity.
With that being said, it's not for everyone. Some will complain that it is too simple. Thankfully the app's interface isn't cluttered or tacky. It's quite interesting to look at and the developers also pick and edit each recipe so you don't get confused or brought back with bartender jargon.
This is a great iPhone app and best of all, it's free.
Get Drinks and Cocktails in the App Store
Vivino

Wine lovers definitely need to try Vivino. You can find information about wine from an impartial community. You can take a photo of any restaurant's wine label or wine list. It is also possible to search by wine. The app will then display app ratings, reviews, prices, flavor notes and suggested food pairings. You can also buy your favorite bottles through the app.
Store all your bottles in the app's cellar so you can see what you have. The application database has more than 13 million wines from more than 230,000 wineries.
This app is free for iPhone.
Get Vivino: Buy the Right Wine on the App Store
BeerMenus

Find a place that sells the beer you like or want to try. Browse the latest beer menus for nearby bars, restaurants and beer shops. Follow your beers and get notified when they're available nearby. Follow bars and restaurants to get notified when they change their beer menu.
Keep track of the beers you drink to keep track of them and easily find your favorites. Find a place that sells the beer you want to try. This is a free iPhone app.
Get BeerMenus – Find Great Beer in the App Store
Cheers!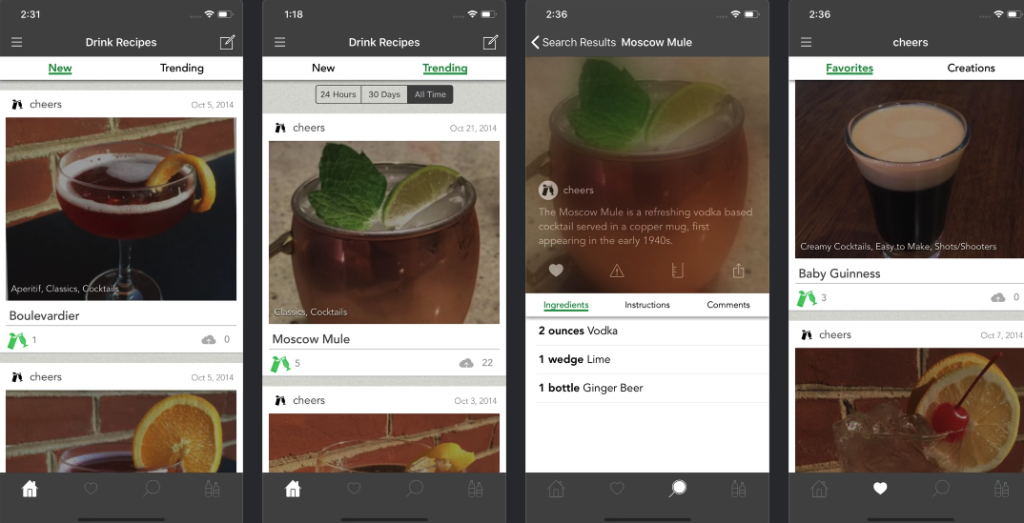 Always make the perfect cocktail with Cheers. You can easily drop in the ingredients you have on hand and see what you can make now. There's also a huge catalog of drones that you can narrow down by category or even exclude materials you don't like.
You can even add your own cocktails to the database for all users to enjoy.
This app is a free download for iPhone and all iPad models.
Get Cheers™ on the App Store